Two Thumbs Up from a Carnivore: Eating Vegetarian @ House of Wonders, Cascais
by Elise Xavierpublished on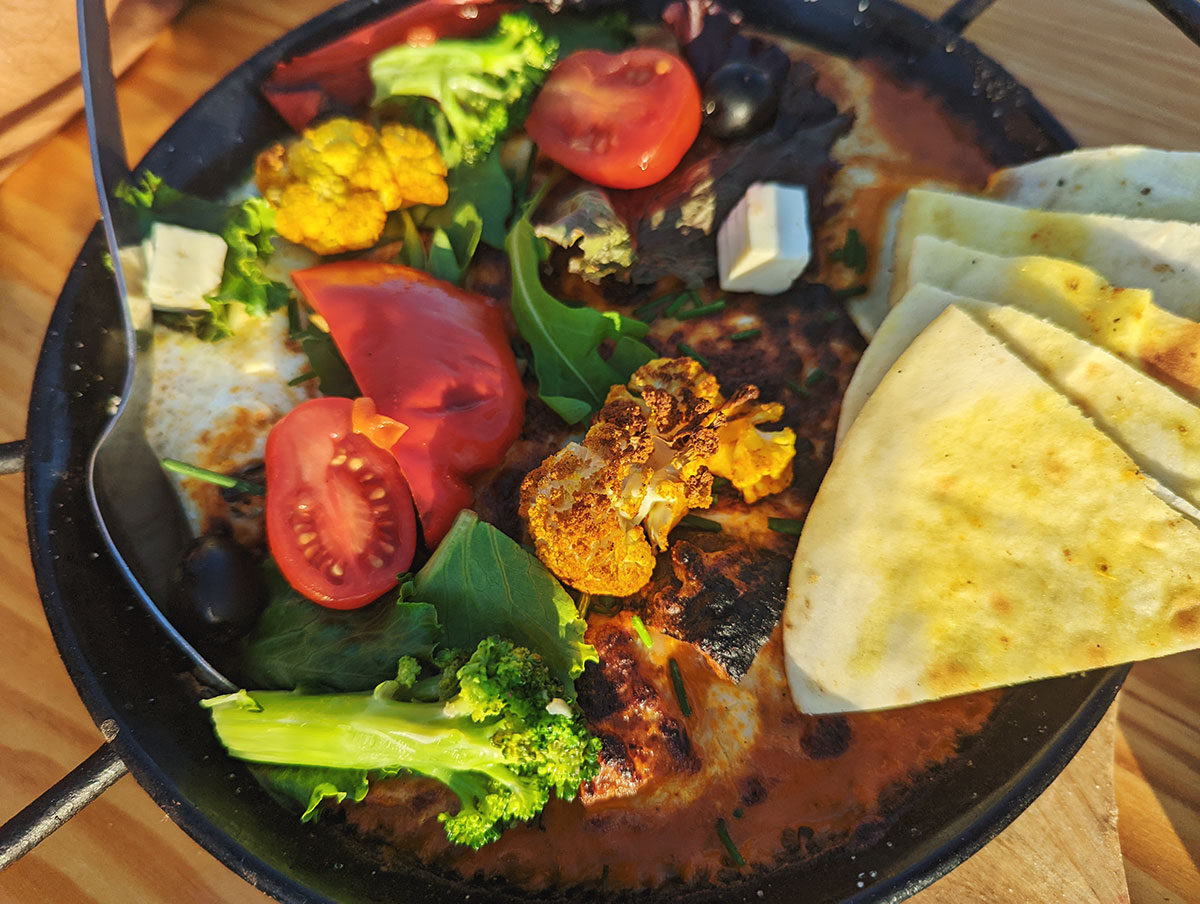 I've spoken about the desserts at House of Wonders on this blog before, and mentioned the crème brûlée was a must-get at this place, but I wanted an entire article dedicated to the meals here because, I'm essentially a carnivore who can rarely stomach meals without meat, and even I love the meals at Cafe Galeria House of Wonders, Cascais.
I will admit, good food is good food, so I'm not anti-vegetarian or anti-vegan food at all.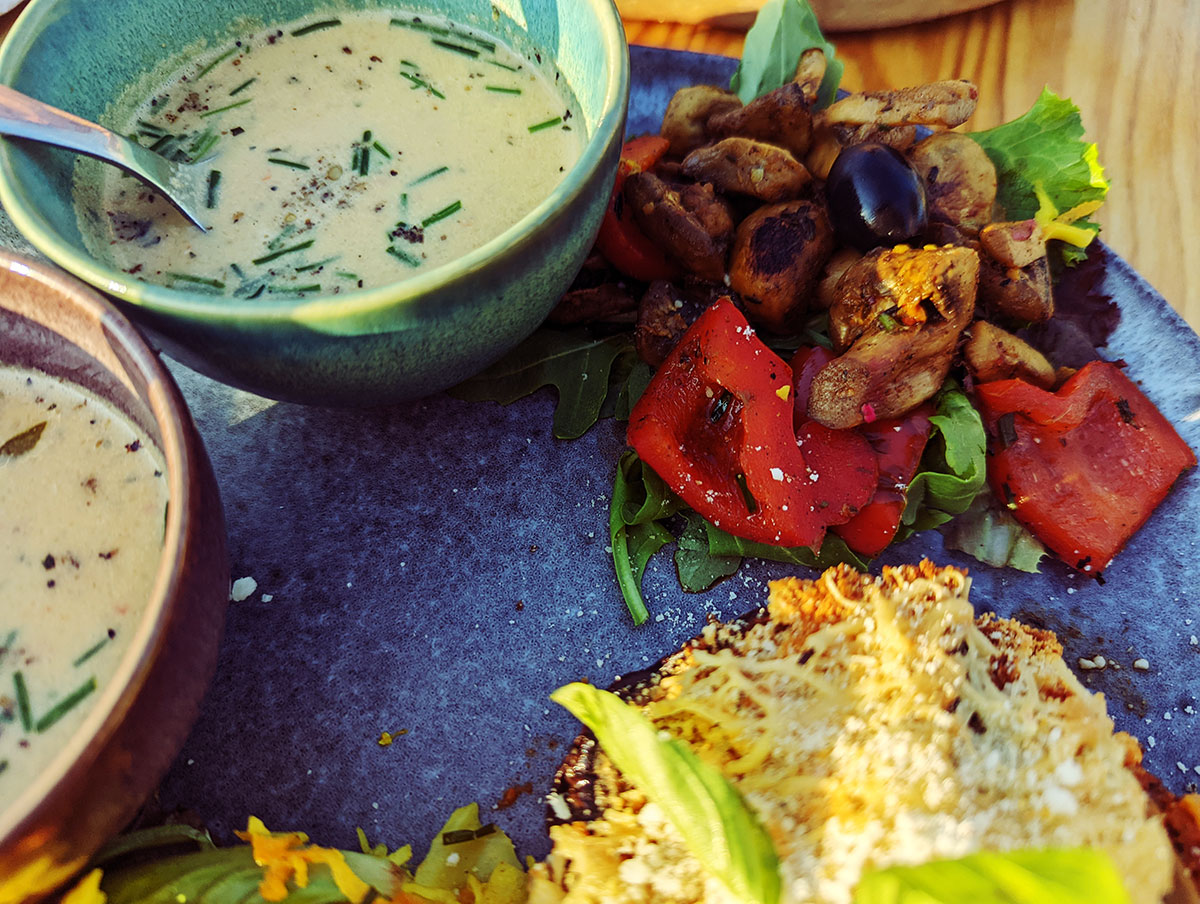 It just has to be equivalent in terms of taste to something that has meat - which isn't easy feat to attain at all for a meat-lover like me.
House of Wonders does manage to use cheese and mushrooms in a way that makes me forget about the need for meat, however.
And while some of their meals make more of an impact than others, I don't believe there's anything you can grab here that will taste bad or not be worth getting.
Some restaurants are good at one or two dishes and the rest are flops, but at House of Wonders, you get consistently good food no matter what, and some dishes just happen to shine more than others because they're pretty well near perfect.
Something I've not yet seen in any other restaurant - House of Wonders prepares a single of each meal at the start of the day so you can visually see what you're ordering before you order it.
This section of the restaurant, where you order your food, has a sign that says "Choose with your Eyes" and it sure is accurate insofar as how you'll be picking your meal.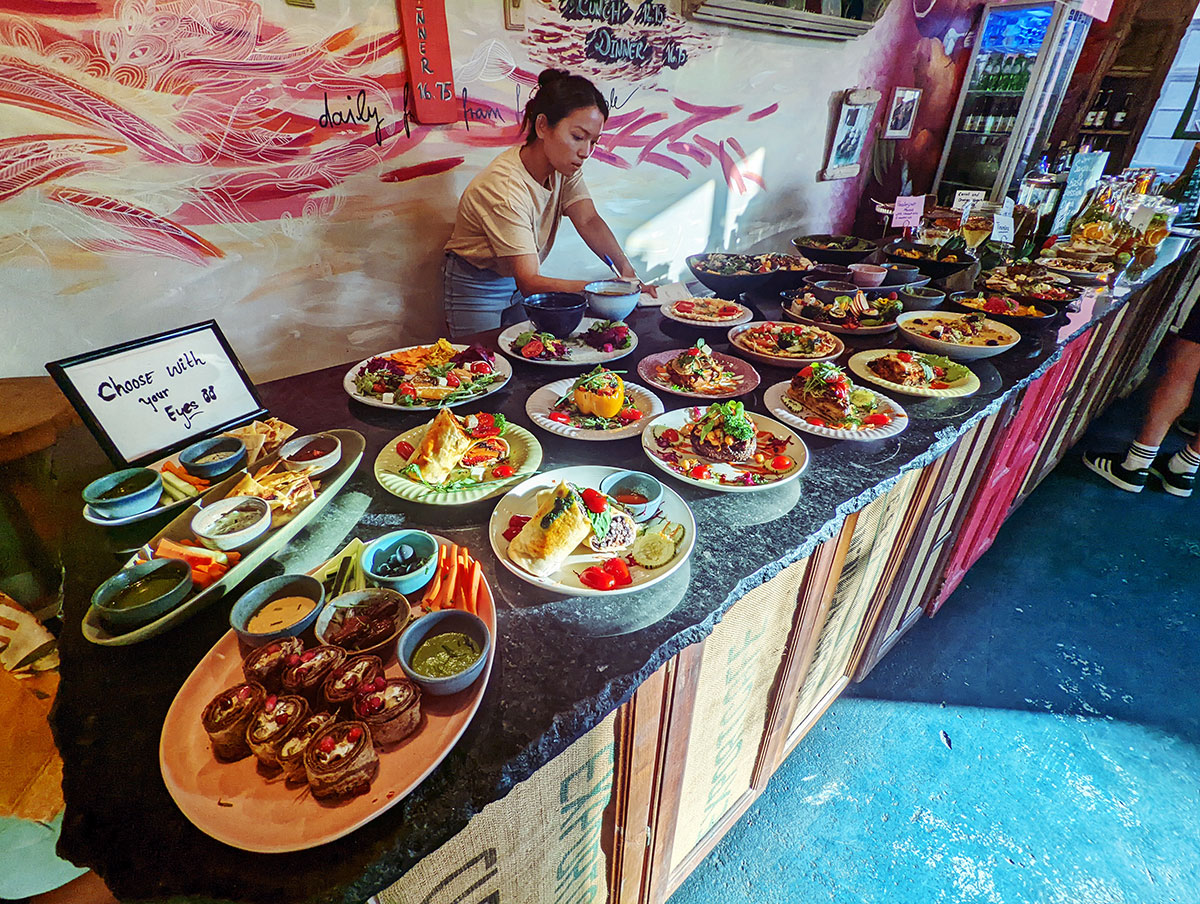 Does this help over beautiful photographs? In my opinion, yes, alongside the fact that you can ask as many questions about the food as you want before ordering.
Bigger dishes come by themselves, but smaller dishes come alongside one side - which can either be a really intricate salad (highly recommend) or a small soup and small salad (definitely still recommend, but I love their bigger salads so much more, so try one of each if you can).
The meal starts off with a three dip veggie and bread platter, which I think is a solid way to start a meal.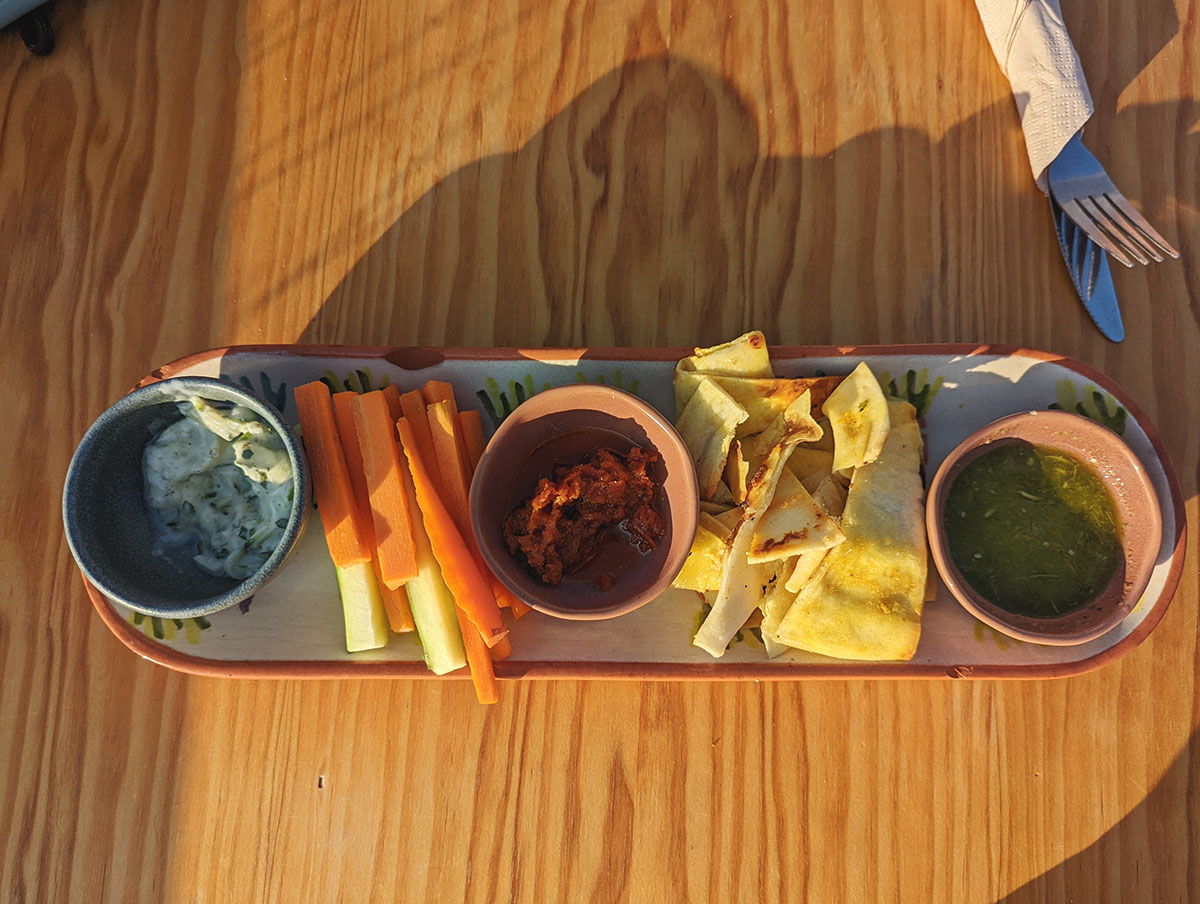 There's a garlic dip, some sort of red and green dip - and they're all delicious in my opinion.
My husband, Thomas' favourite is the garlic dip, but it's nice I feel to have a mix of three types instead of all one thing.
When we went on our own, Thomas grabbed a curry...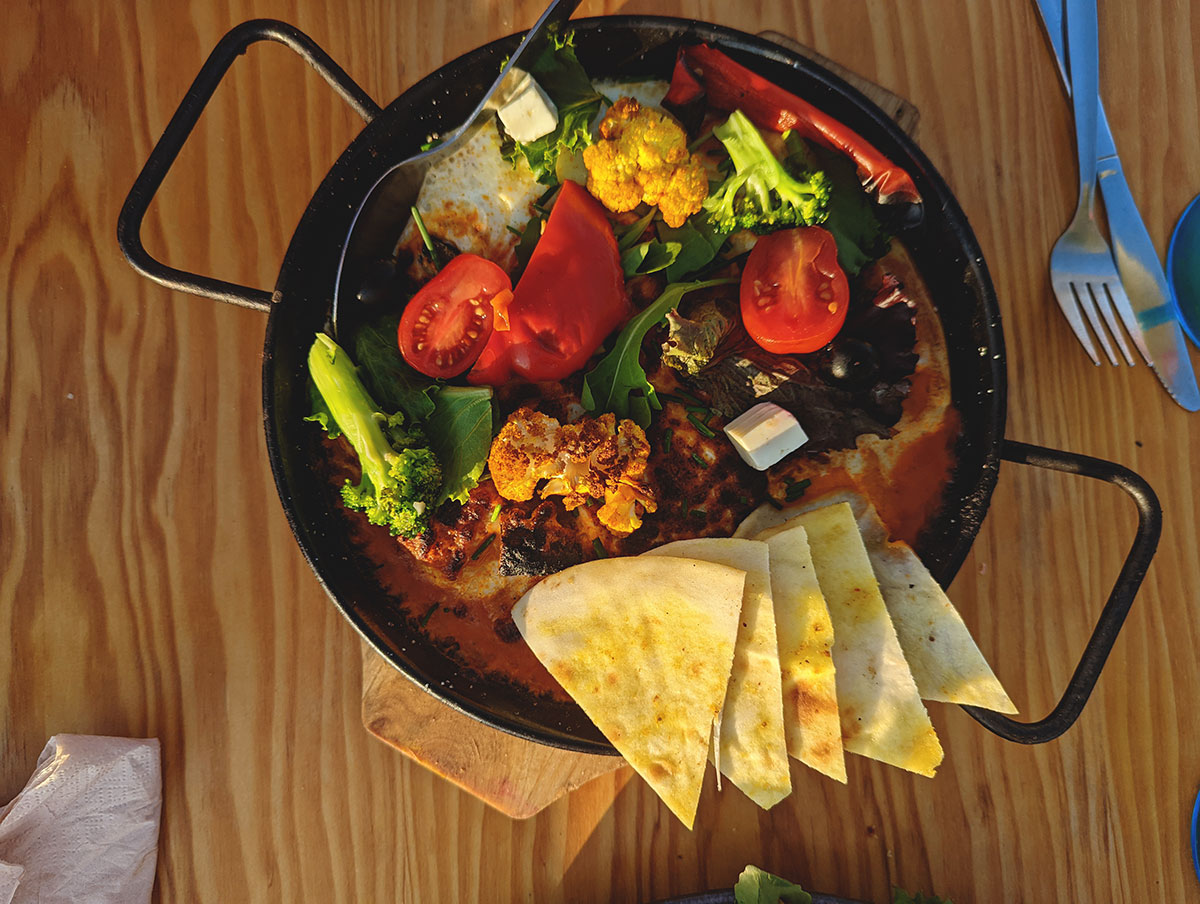 And I grabbed a lasagne, which came with a side salad or salad and soup, since the lasagne was a small meal.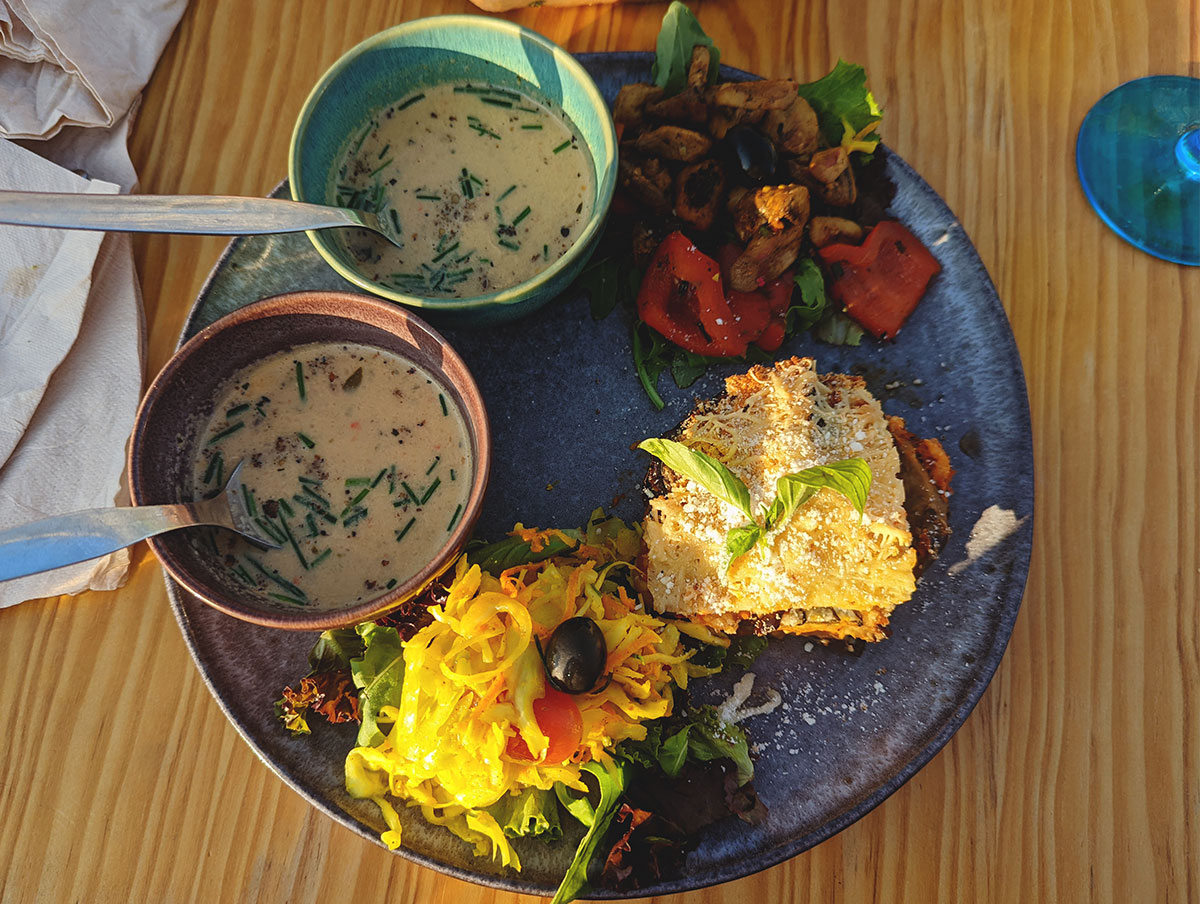 The woman taking our order asked if we would be sharing the soup, and I said yes, so she said she would split it into two separate bowls for us, which I thought was so nice of them to do.
The soup we grabbed was a peanut soup - delicious, and the two salads I got were very different from one another, one loaded with mushrooms, and one more of a green vegetable based salad, super tasty.
Between the two, Thomas' was definitely more filling, that curry is quite heavy, in a good way.
The next time we swung by, we did so after heading over to Play Bowling Cascais for a round of bowling with my brother and his husband.
We each grabbed four dishes - none that we'd ever had there before, and again, they were all delicious.
Thomas grabbed a stuffed mushroom if I remember correctly, and while it had a load of cheese on it in the "example" when you walked into the restaurant, when he got it it had chick peas on it, not what he expected -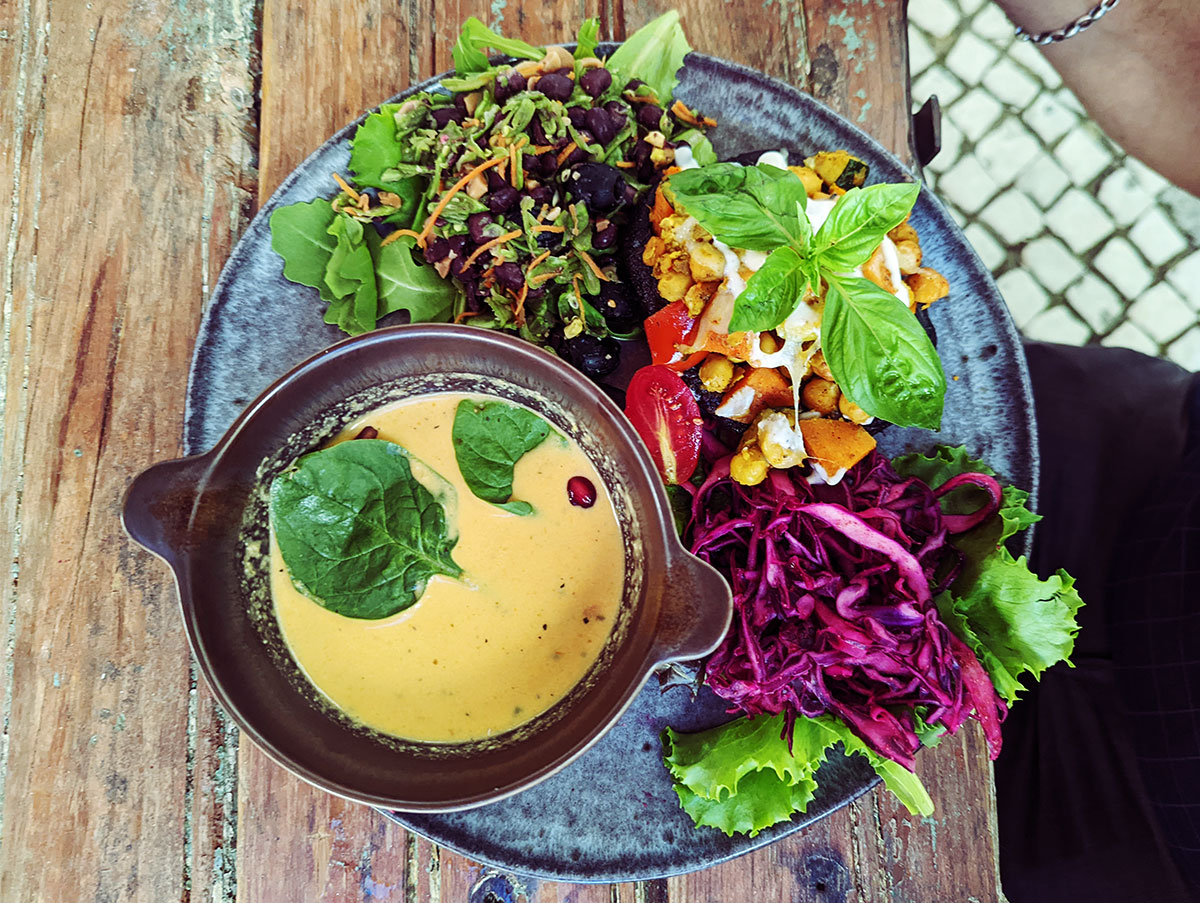 Tasty, but I think he would have preferred the cheese. He ordered the soup and salad as his side, and so did Kenny, but they actually got two different salads, albeit ordering the same side...
(Kenny's main meal was a stuffed potato I believe.)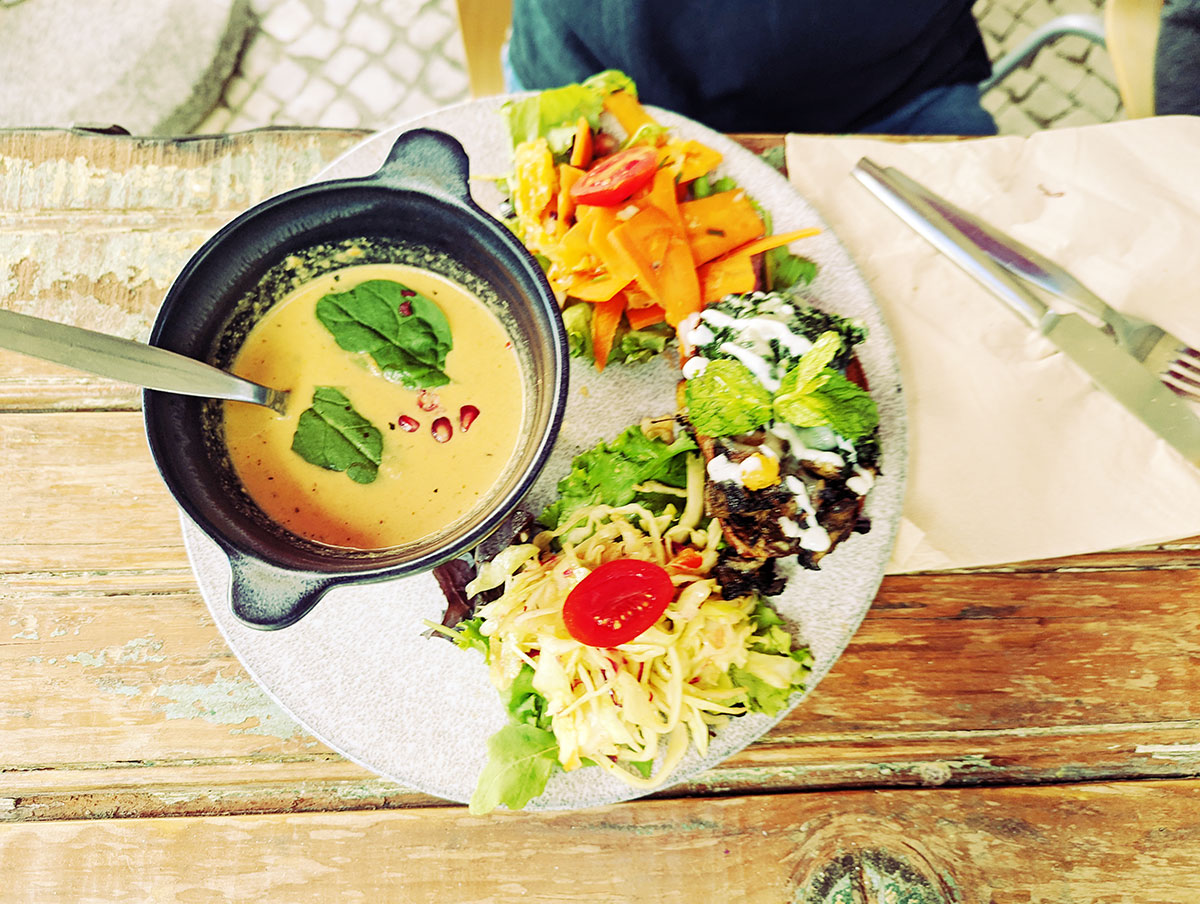 His soup was identical, but not his sides, which led us to conclude that they probably don't use the same recipes for salads or for main dishes, and mix things up at least a little each and every time they make a meal.
Interesting as a concept, I've never had that happen in a restaurant before! And definitely not this drastically.
I'm not sure if I like it or not yet, as it's such a novel concept to me, but at the very least it will mean you won't get bored if you order the same things over and over.
My brother grabbed a pasta, which was one of the larger dishes so he didn't get a side -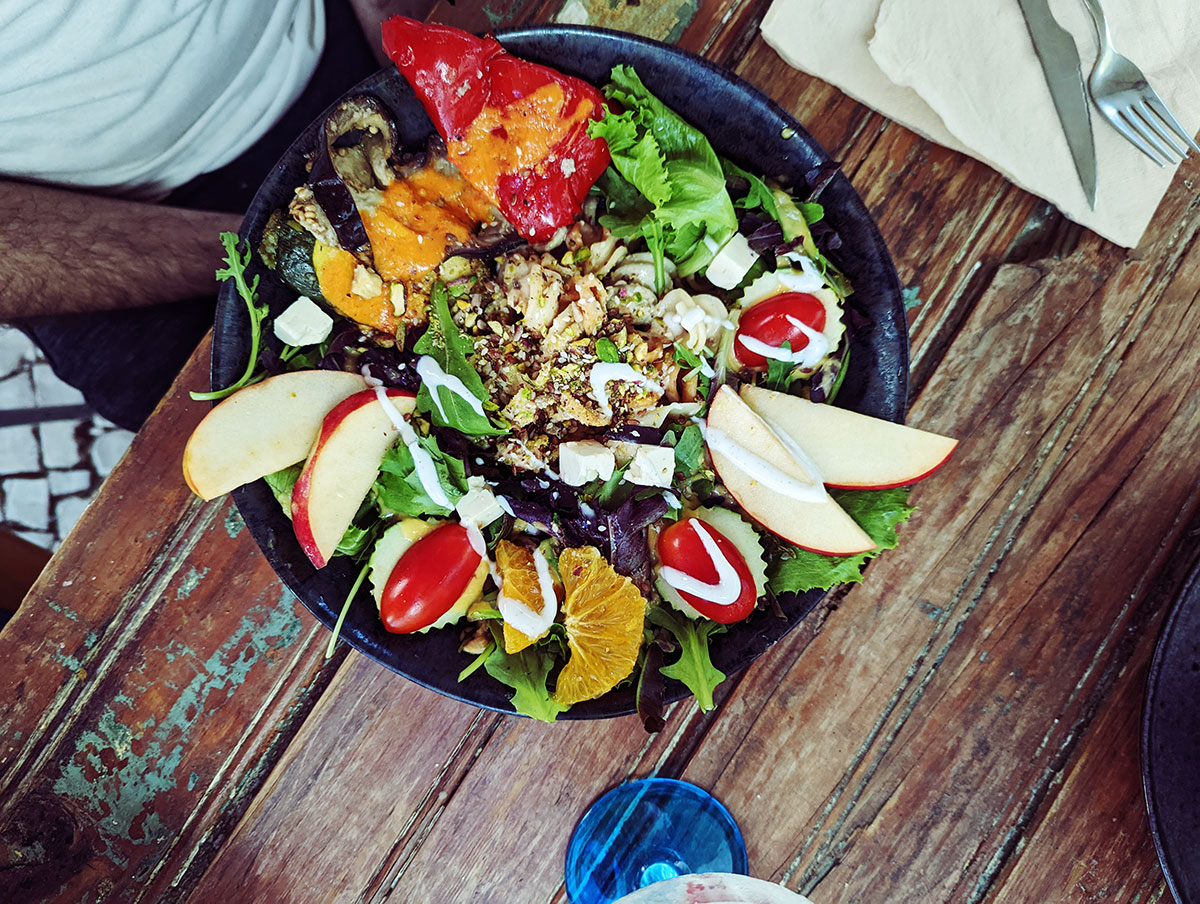 It was full of fruit and veggies, nuts and all sorts of bits and bobs. Definitely healthy insofar as pasta goes.
I ordered a crepe filled with mushrooms, and I have to say, I think it was the best and will have to get it again next time I go because of how much I loved it.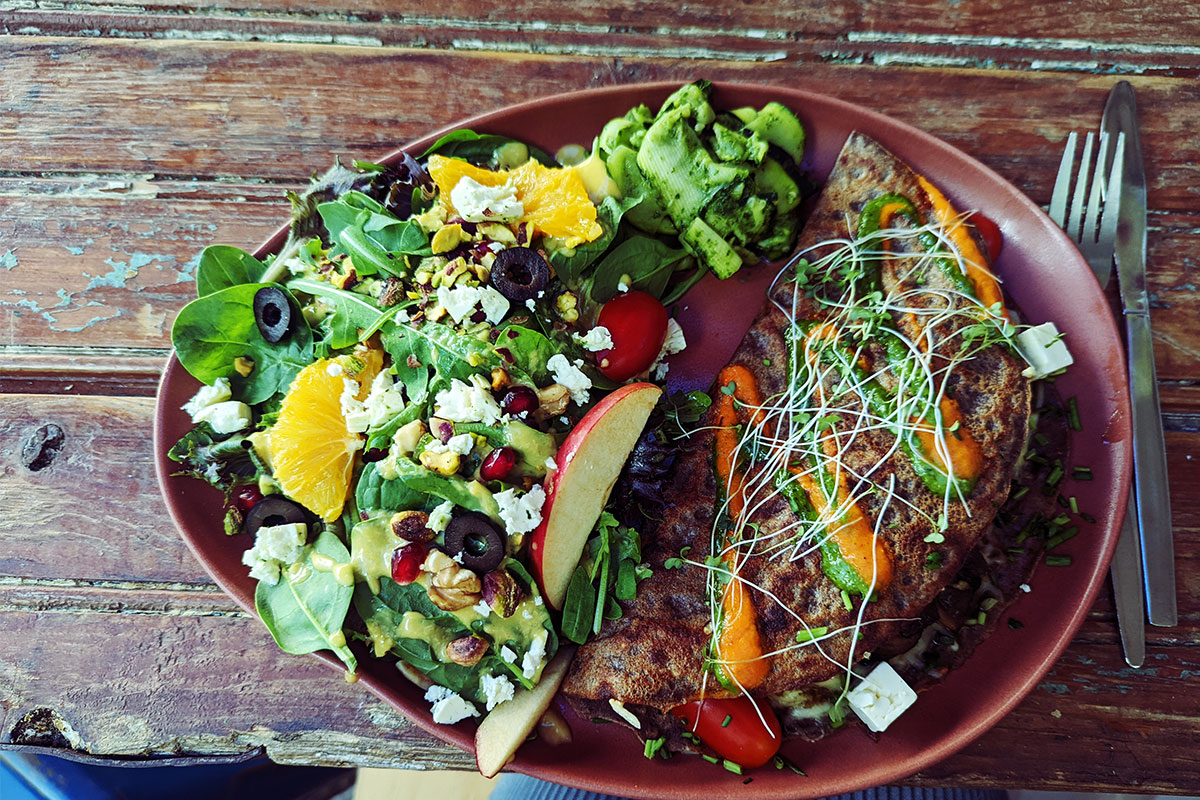 I ordered the large salad as a side instead of the small salad and soup and I was so pleased with the salad - which was way more packed than the small ones, and had ever so many fruit, veggies, nuts, and even cheese on it, I'll be torn next time I have to order between this and the soup with salads because both are so good.
If I had to choose I think I might order the very same meal again, with the mushroom crepe and the large salad.
Everyone tried a bite of everyone else's meal, and the mushroom crepe definitely won out first.
John liked his pasta and said he would get it again, but Thomas and Kenny said they'd probably opt for my dish next time, maybe with the soup and salad, maybe with the large salad.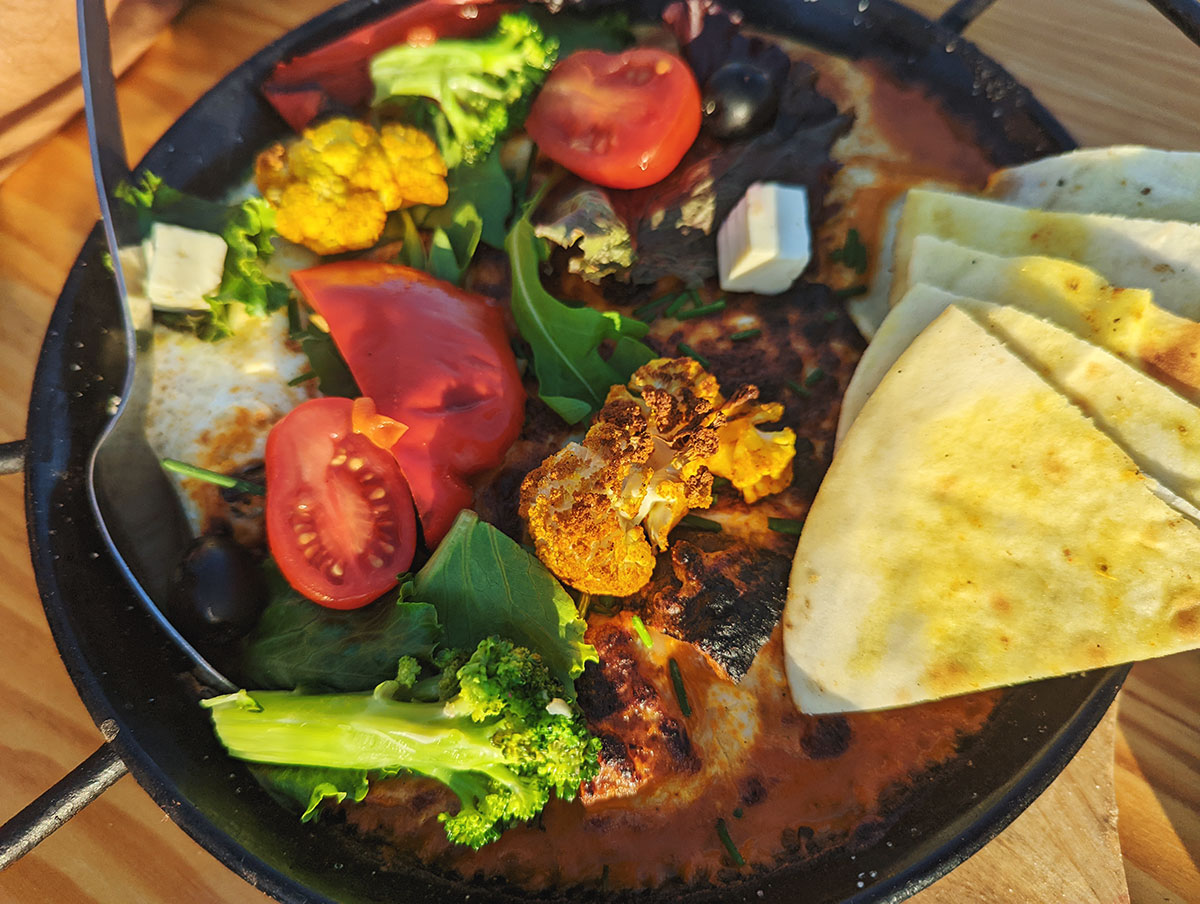 All in all, ridiculously good food, high quality, very healthy and a lot of variety, but without making you feel you're missing out on anything no matter what you order because it's all packed full of so many veggies and mushrooms and such good cheese, you don't feel a "lack" albeit no meat, even if you're used to having at least a bit of meat or fish in every meal.
I love this place, I love the chill vibes, I think the pricing is completely reasonable. I think it's an excellent place to spend a whole evening, and as I said in my previous article about their desserts, I'm very happy to have dessert here, and this place has the best crème brûlée I've had yet.
We always grab gin whenever we're here, again it's super reasonable price-wise. They're definitely not shy with portion sizes.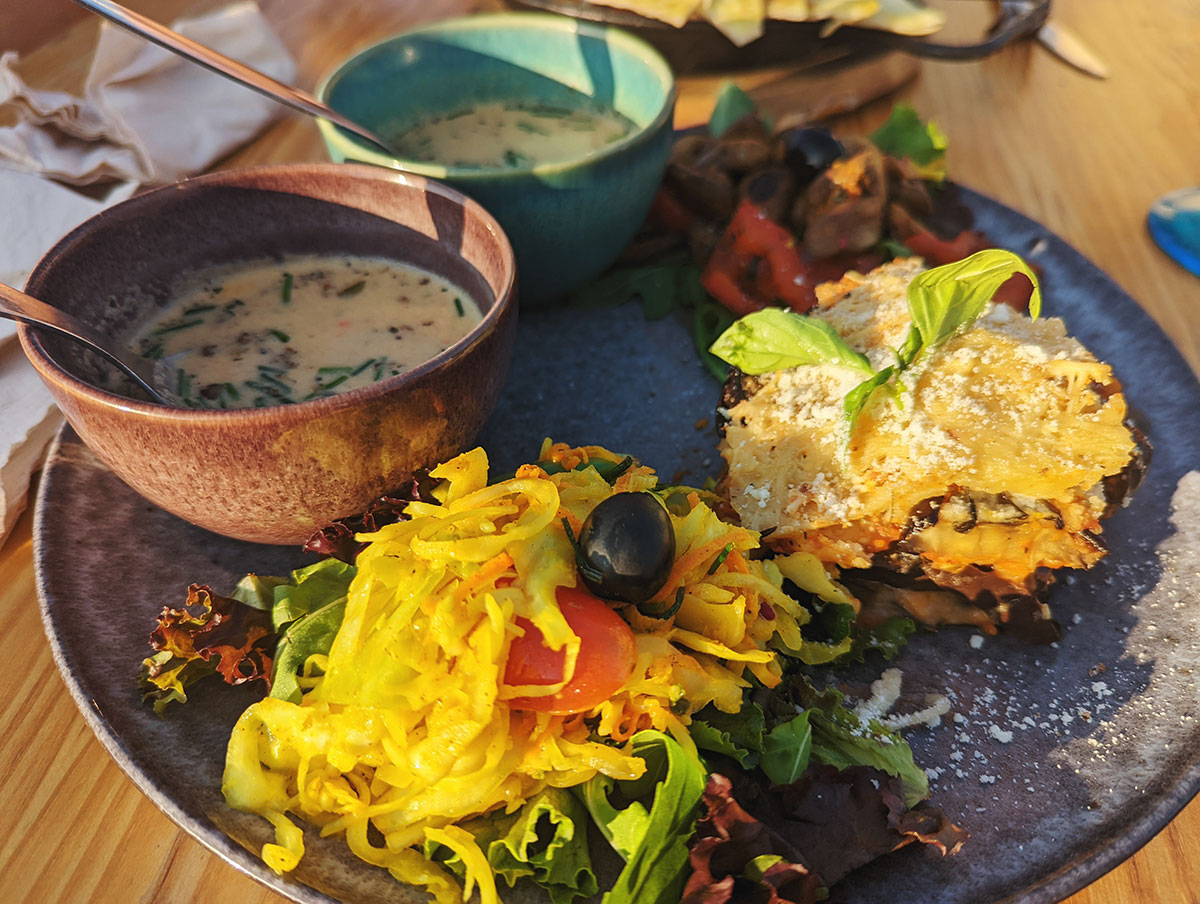 So whether you're vegetarian or not, if you're curious about the food here, maybe saw the look of it and thought it would be a relaxing place to spend the evening working away at your laptop as a digital nomad, I'd absolutely recommend giving it a shot.
It's pretty perfect, definitely two thumbs up from me.