Delicious Steaks, Great Ambience @ Os Prazeres da Carne, Cascais
by Elise Xavierpublished on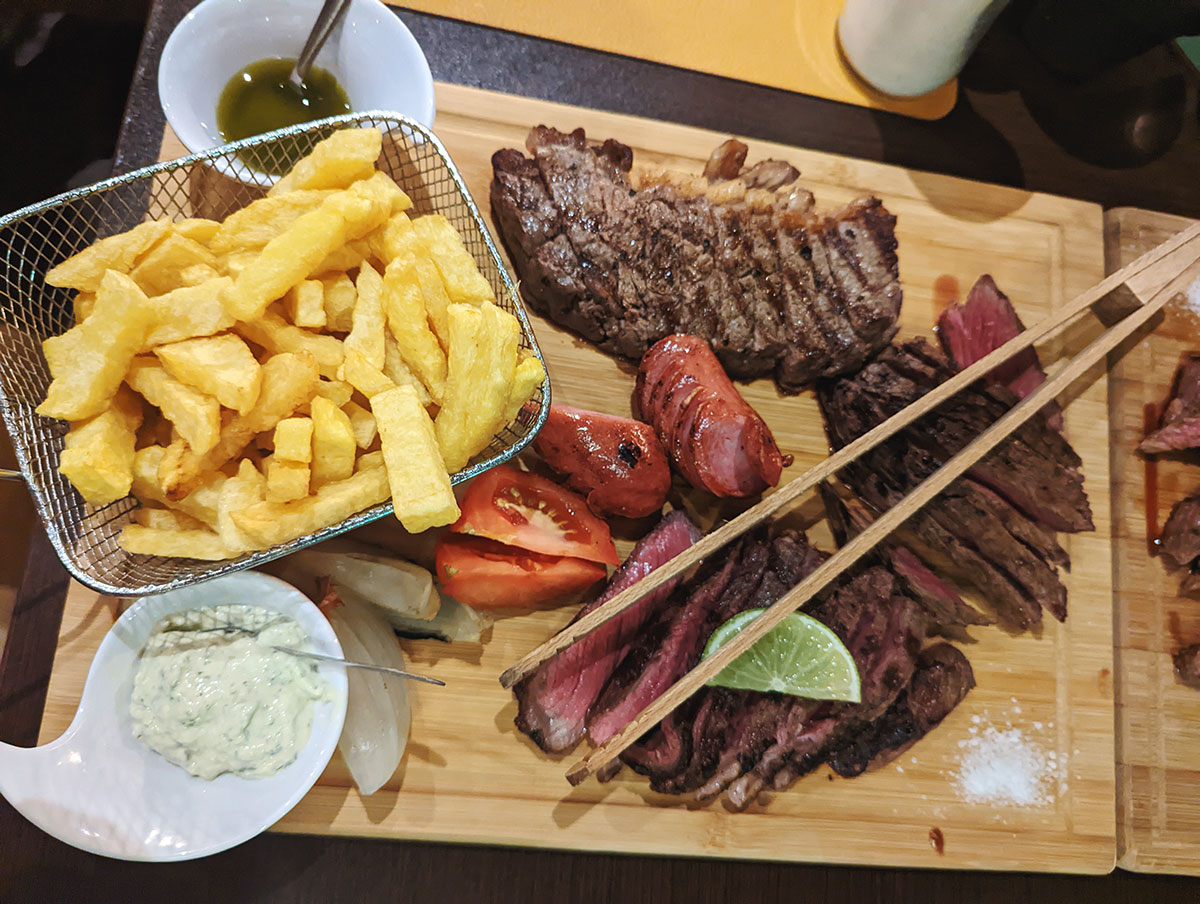 Thomas and I have a somewhat weird "thing" about buying food we can cook at home - we just don't like to do it.
Most likely because Thomas cooks really well, things like pasta, steaks, burgers (the exception being Burger King, which in Portugal is actually really good, you should give it a shot!), we don't like going out for at all because Thomas can cook (99% of the time) better at home.
Steaks, however, are a very well-loved dish by many, and so when we go out with friends, every so often, we will go to a restaurant and have steaks.
Truth be told, our friends recommended this place, and we were stupendously sceptical about it.
We're hyper picky about the restaurants we eat in, wanting them to meet a slew of criteria, from having high quality ingredients, to being prepared in ways that work together, to not being ridiculously priced for what you're getting.
I'm going to cut to the chase here and let you know, we were pleasantly surprised by Os Prazeres da Carne.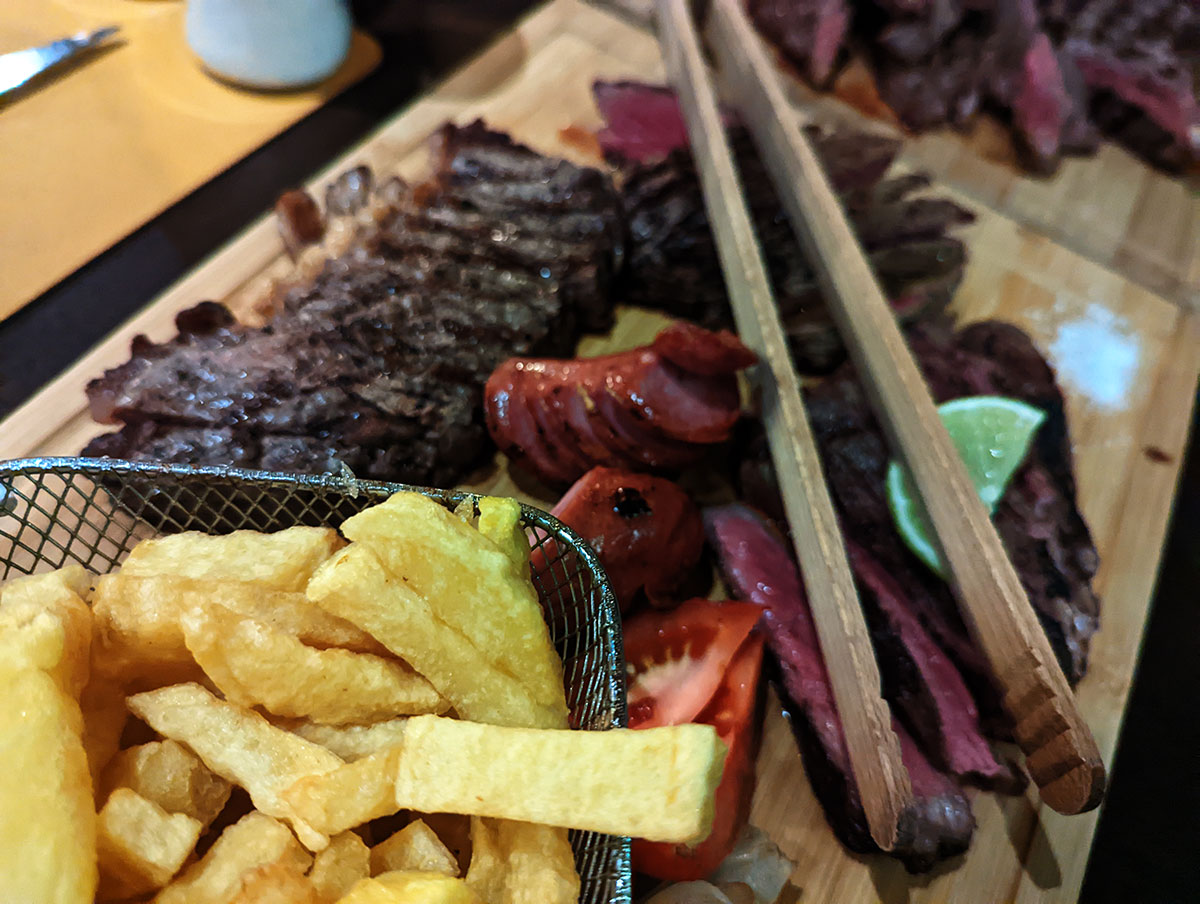 We were 2 couples, and we both got a 2 person steak platter. Our friends got the medium rare, and we got the rare.
The steaks we got were delicious, just red enough to be considered rare by us, but not incredibly bloody.
Hopefully the pictures will help you figure out what "rare" is here so you can adjust your order accordingly (or grab what we got if you like the look of it.
The steak platter came with I think three different types of steak - all delicious and they told us which was which, but I can't for the life of me remember.
Some we obviously favoured over others, but all were so good that even I (who doesn't always eat fat and will definitely leave steak that has too much ligament) cleared off my half of the steak entirely, eating each and every piece and leaving nothing.
The fries it came with were delicious, and these were definitely enough for the two of us.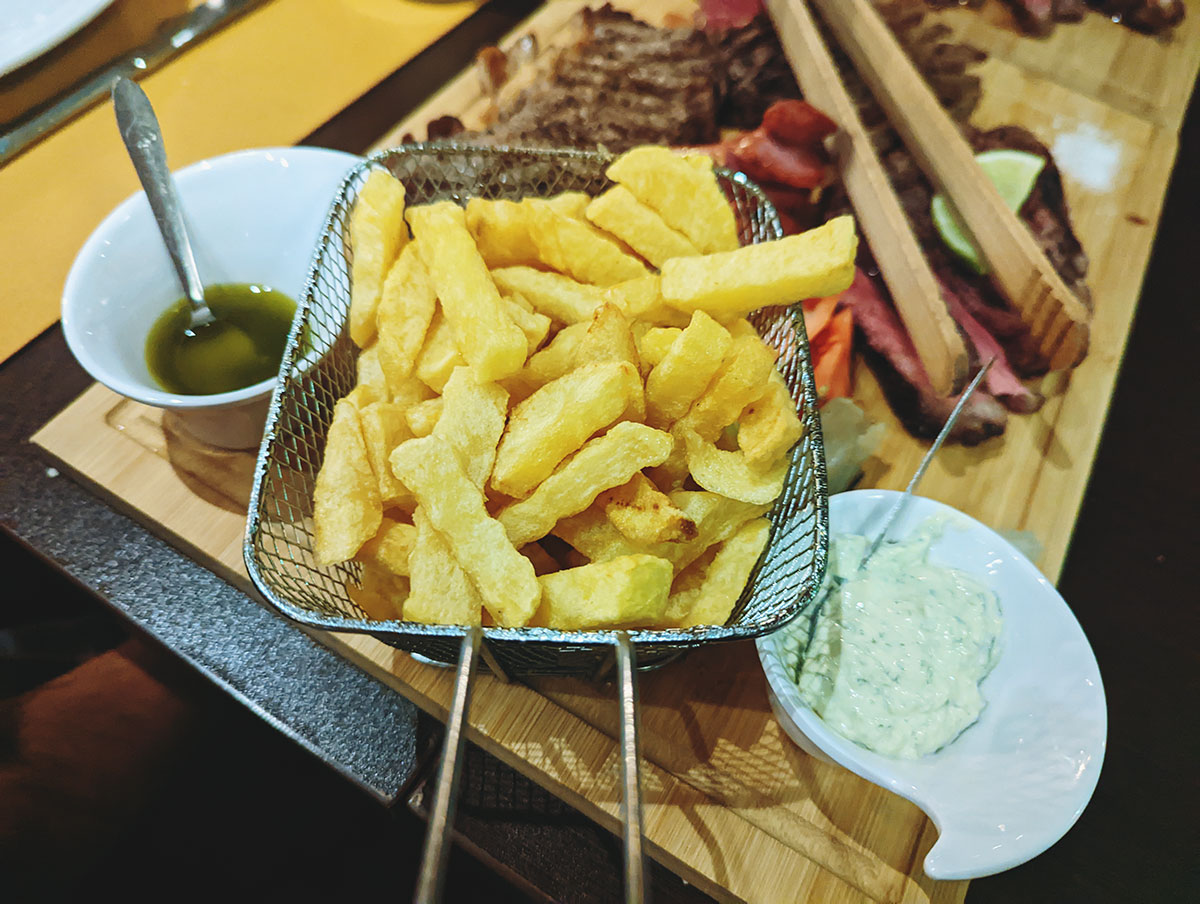 They came with this way-too-tasty mayo dip, but to be honest this is Portugal, so way-too-tasty fry dips are incredibly common. Still it's worth noting.
We got a few pieces of onion and tomato, a lime, salt, and what I think is an olive oil dip for the steaks.
We also got an incredibly tasty sausage. Super nice in terms of variety.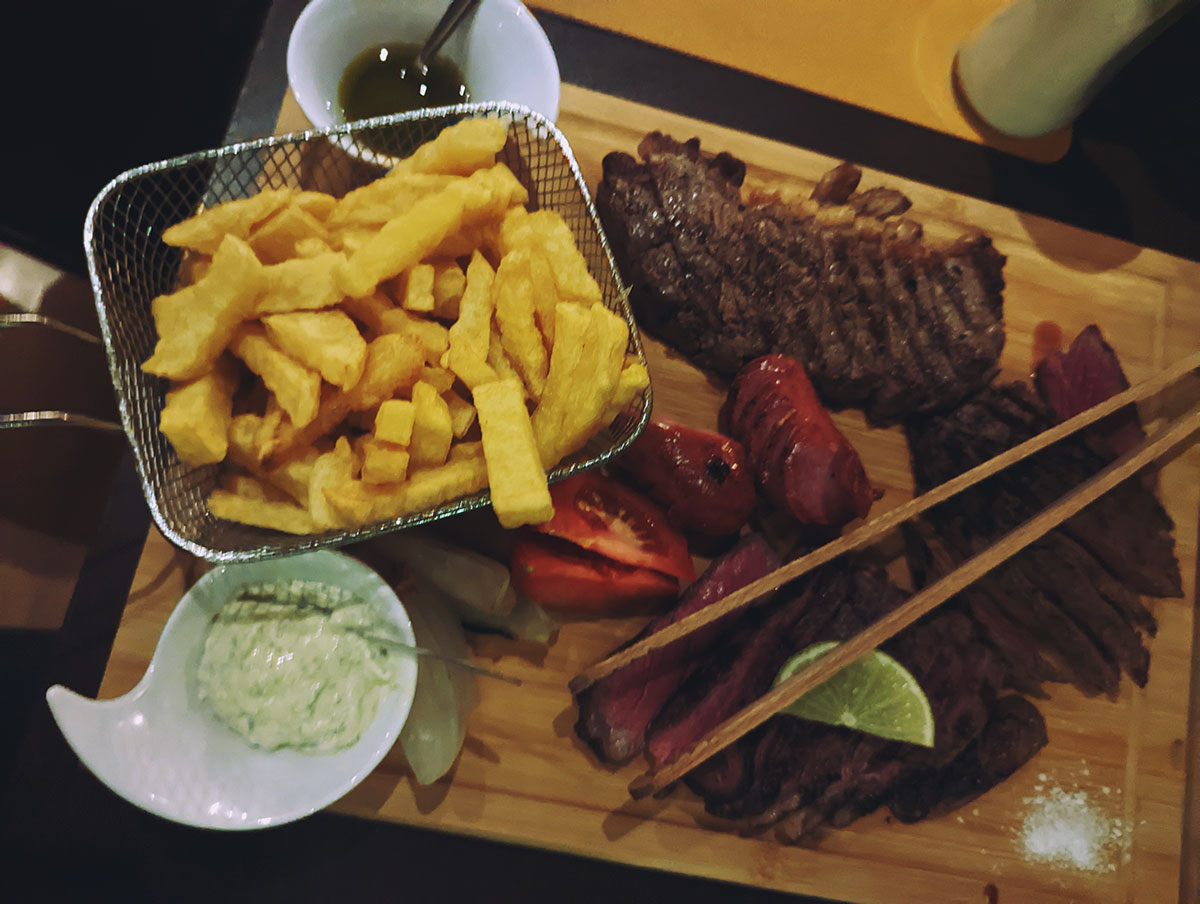 We ordered rice and black beans on the side.
Sadly, I didn't grab a picture, but they are what you'd image, and were worth getting, in my opinion.
Though I admittedly do love Brazilian style black beans.
Before we got here I admittedly did assume this place was going to be all about the ambience.
Which is fantastic, to be fair. The location is stunning, the views are amazing, it looks great inside, even when it's busy, it still somehow doesn't get too loud to hear the conversations at your table.
I thought that this place was just going to be about the "mood," and not at all about the food, but I absolutely was wrong.
Is the food so incredible, it's something to write home about? Not exactly, but I wouldn't hesitate for a second to come back here.
Essentially, Thomas and I are almost guaranteed never to be seen here dining together alone.
We do, after all, have rules about not bothering with going out for dishes we can at least quazi-cook at home.
Would we hesitate to come here with friend - especially those who liked steak? Absolutely not.
In fact, we would recommend it to anyone who prefers Western dishes to menus that encompass flavour profiles that are less common, more unique.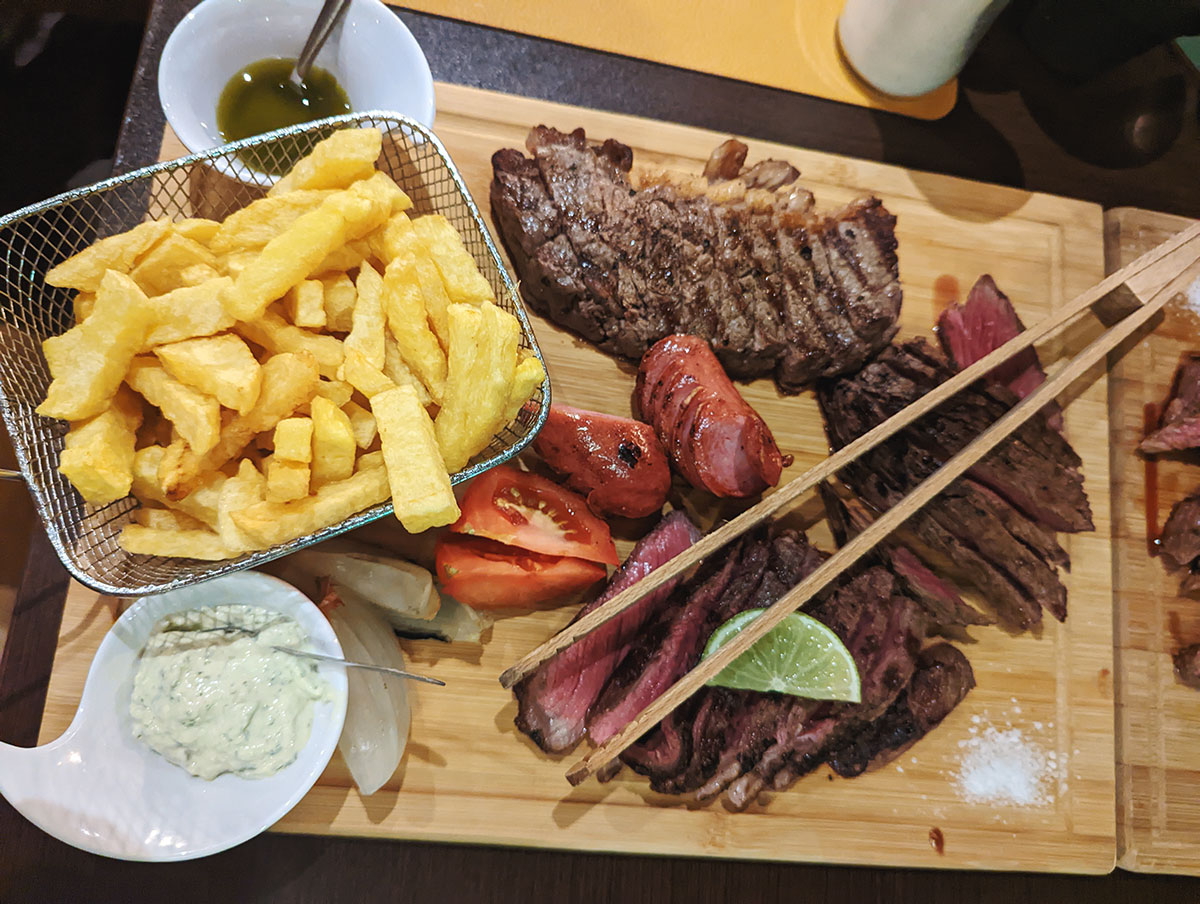 This place gets an A from us, not quite an A+.
And we will definitely be back with friends we've already taken to Páteo do Guincho, and who are a fan of less "experimental" types of food.