Excellent Value, Always Fresh Seafood; Mussels & Fries @ Moules & Gin, Cascais
by Elise Xavierpublished on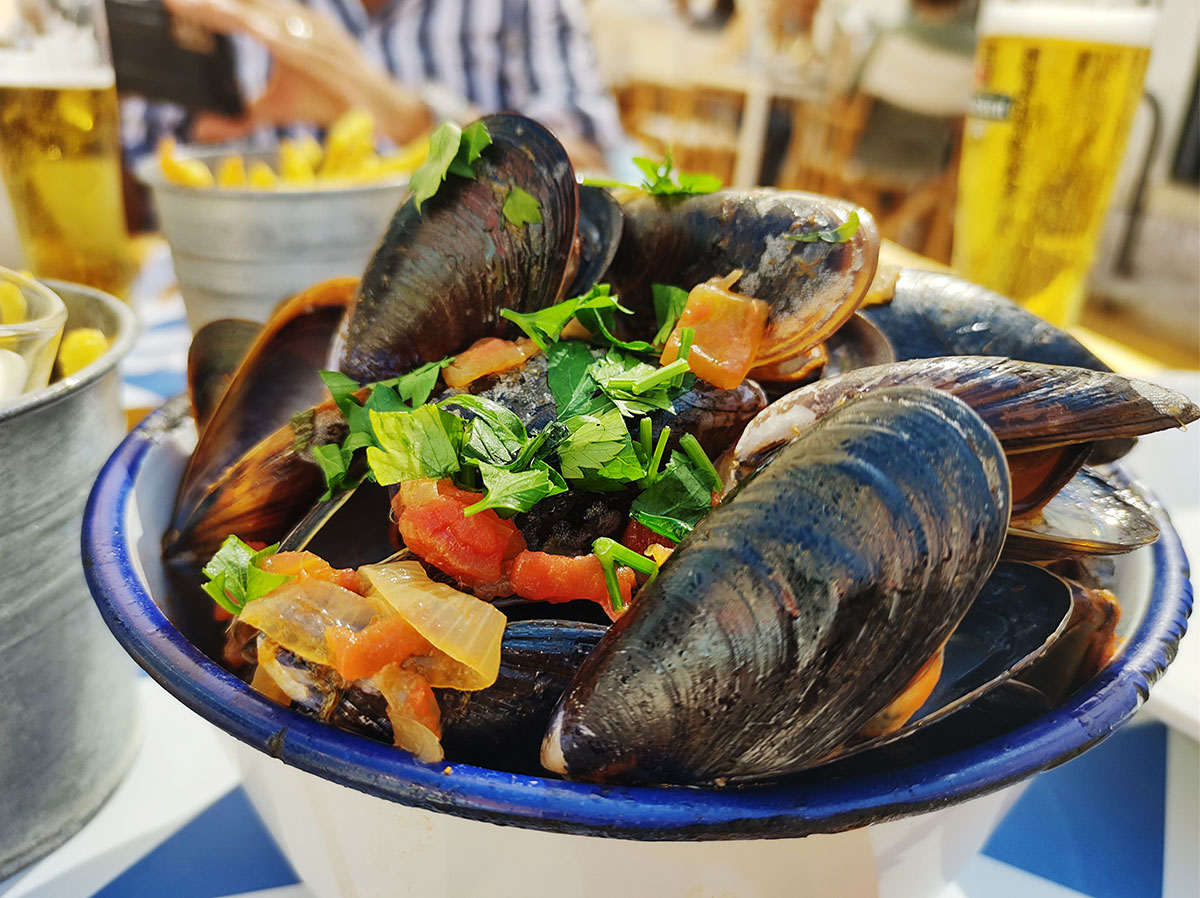 Moules & Gin is a restaurant in the heart of Cascais that serves mussels and fries - with a number of different drink options on the side, but that's absolutely it when it comes to their menu for meals.
Actually, I lied, because I just took a peek at their menu and they made room for two other dishes - both by the look of it being beef steaks of sort, as quazi-appetizer or side dishes, but honestly if you're here for anything but the mussels, I question your sanity.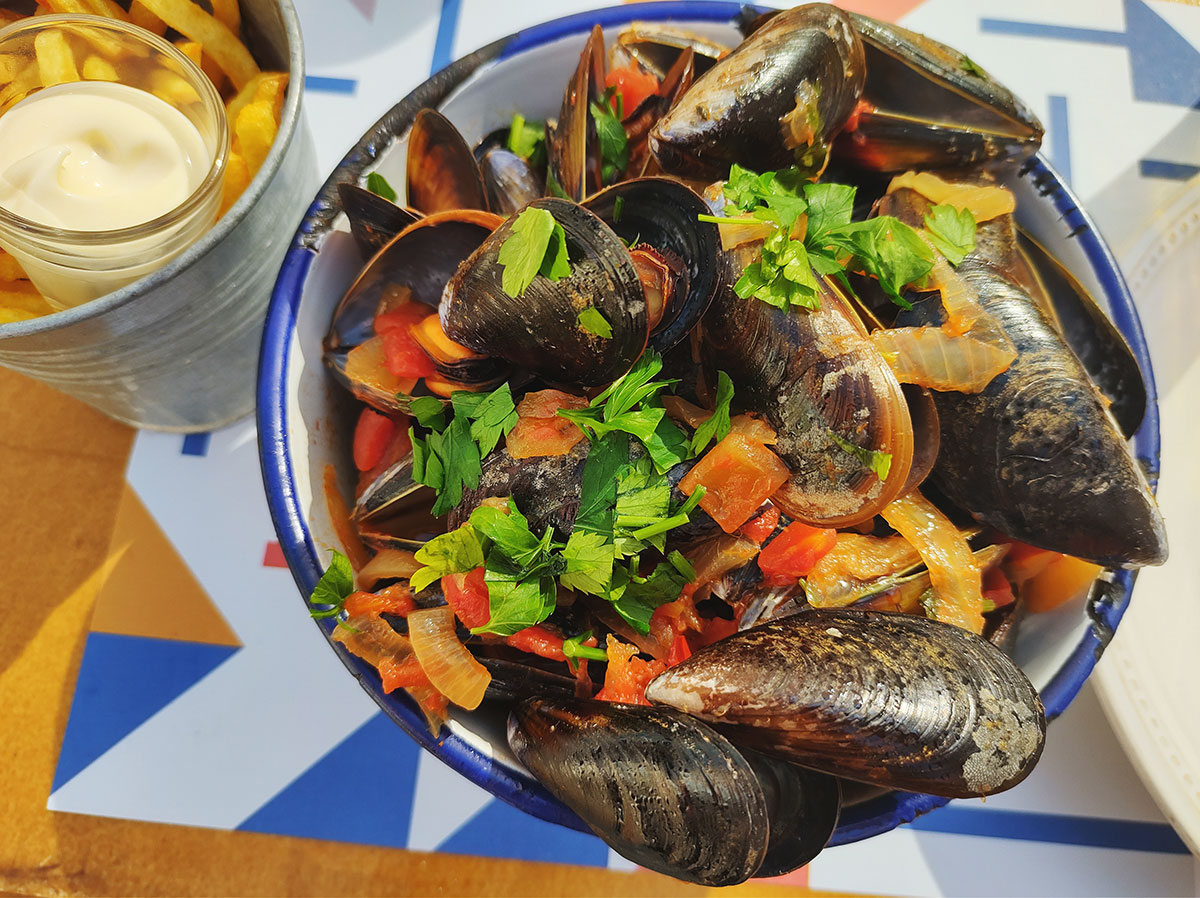 Insofar as restaurants with a singular purpose go, this is pretty much as close as you get.
I wouldn't really come here with someone who hates mussels, or with a vegan or vegetarian, because honestly, and it should be pretty clear by the name and the fact that over half the menu is just mussels... the mussels are the point.
So to reiterate: mussels, come to Moules & Gin for mussels. Very tasty, extremely worthwhile mussels.
The mussels of course come in a broth of your choice, that's also delicious.
For those new to the mussel game, move around the heaping mussels to create enough of a "hole" to the bottom in order to get to the broth and scoop it out with the shell of a mussel you've already eaten. Slurp - yes indeed, that is what happiness tastes like.
Oh and the side of perfectly-cooked fries (chips if you're British) with a thick, delicious mayo dip that makes for the perfect combination of flavours.
You can also dunk those fries in the broth, but no need, they have a lot of flavour, delicious on their own.
In person - as a takeaway dish - it doesn't matter. You order mussels + fries from this restaurant, you're swell.
I honestly have to admit that I cannot count the number of times we've eaten at Moules & Gin.
It's impossible for me to say because - between going in person and ordering their consistently tasty mussels as takeaway - I'd say our numbers have racked up in the too-high-to-count digits over the years.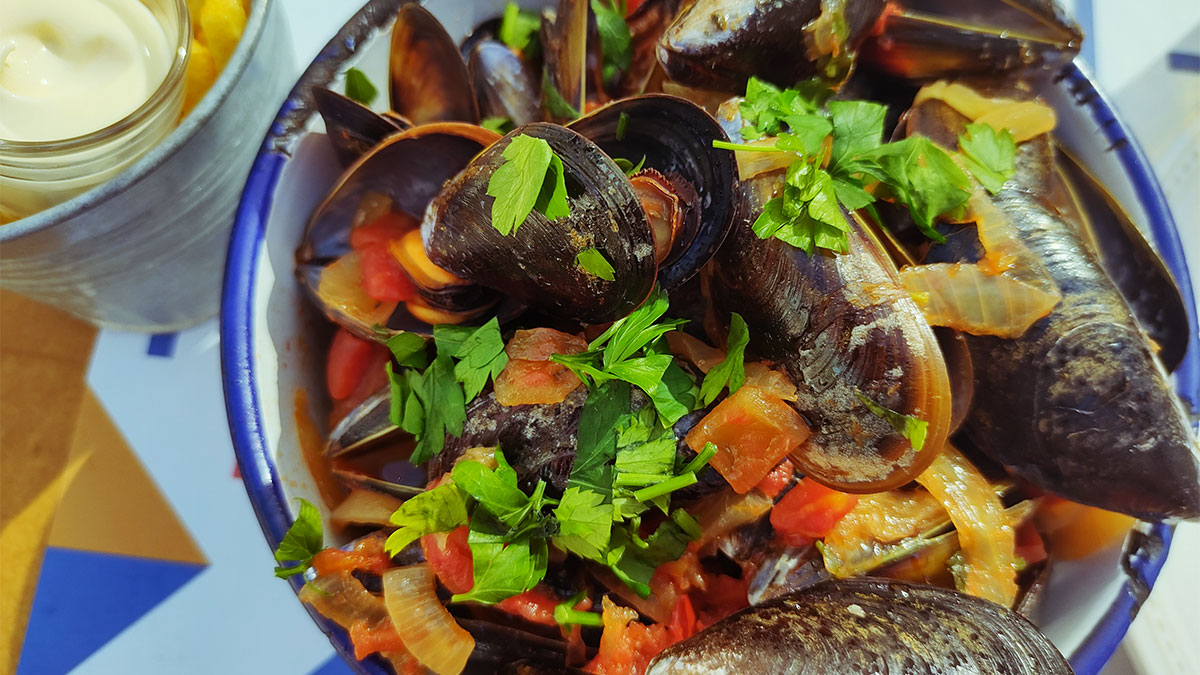 We've probably only gone 3-4 times in person. It's got a decent ambience, nothing to complain about.
The indoor seating is not so bad, but the seating outdoors is extremely nice - unless it's a very windy day, as sometimes happens in Cascais.
It is street seating, so often we won't bother as Thomas (my husband) isn't too fond of street seating, as he finds it frustrating that people can walk past.
I don't mind that one bit, but it's irrelevant because - when I'm having a lazy day in and I just want something nice to eat that's in the realm of seafood, I pester Thomas until he orders Moules & Gin for us (it's not a hard sell, to be fair), and even if he wasn't in the mood for it before he ordered, by the time he starts eating this perfect meal always wins him over.
The fries are a lot less crispy if you order them as takeaway than they are in the restaurant, but their flavour is so good, we couldn't care less.
Seafood in general is impeccable quality in Portugal, so when you end up in a place that doesn't have fresh and tasty seafood, it stands out more than if a place has got high quality, fresh, and delicious seafood.
That being said, if you're looking for quality seafood at incredibly affordable prices, what your looking for is often a lot more difficult to find.
Moules & Gin hits this perfect combination for us. Always high quality, always good, for really affordable prices, especially if you order takeaway and they have a buy-one-get-one free combo up for grabs (which they almost always do on one app or another - we use both Uber Eats & Bolt Food).
Sometimes the buy-one-get-one-free combo doesn't come with fries - make sure you pay attention as you absolutely should top up your order with fries on the side if you grab a combo without those delicious carbs. The meal just isn't complete without them.
When you make so few dishes, it keeps overhead low, and means the food you have can remain fresh at all times.
If you really want to make sure you get fresh food that's high quality, it's much more likely you'll score on this front if you end up at a restaurant with very few dishes, and where the dishes all use mostly the same ingredients - like mussels in this case. And potatoes.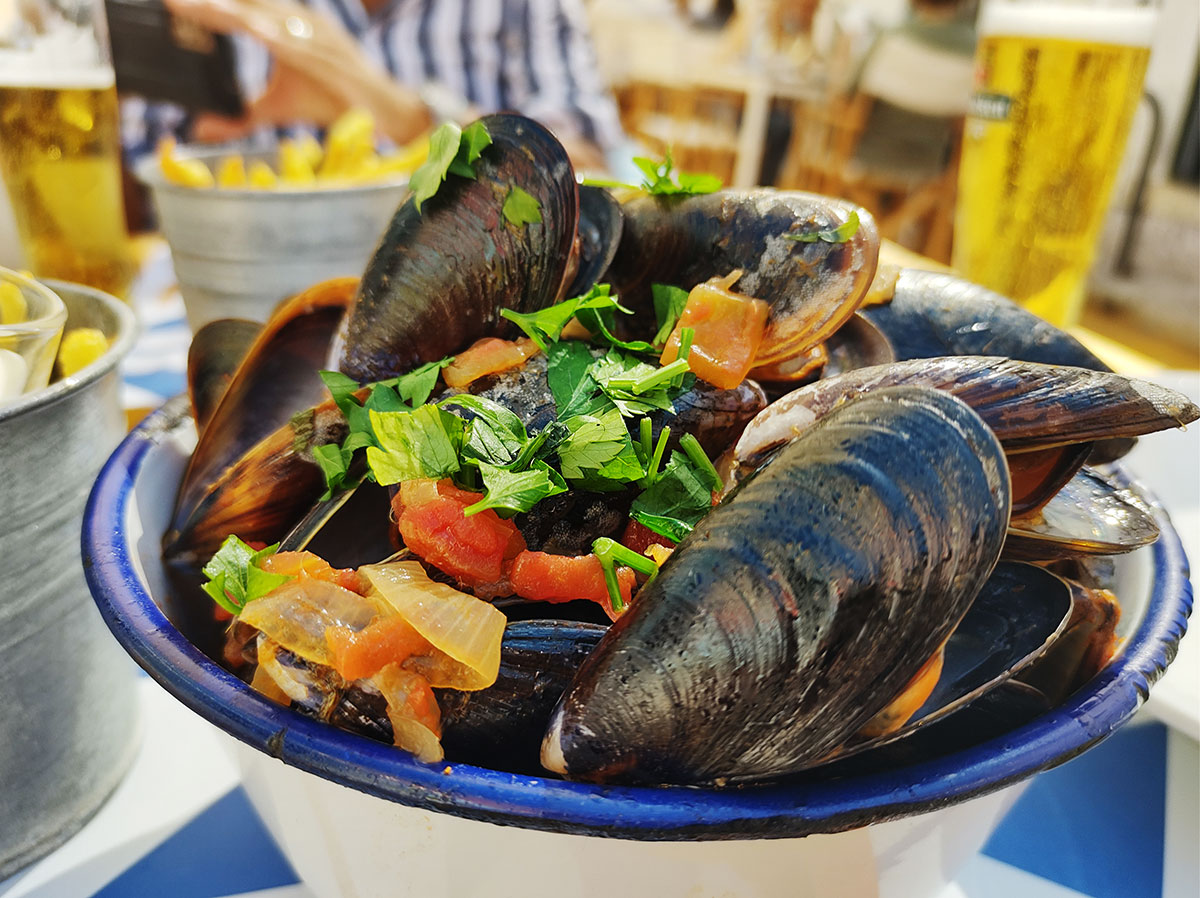 Not much else to say besides, if you like mussels, or haven't tried them but typically like seafood - give this place a shot.
You don't have to go in person.
If you do, great, the food will be incredible, the vibe, quite nice.
If you don't, the food will be ridiculously good value insofar as takeaway goes, and much healthier than the vast majority of dishes you'd get as takeaway meals (things that are healthy don't typically travel this well).
You'll get great portion sizes either way, you'll get high quality food, fresh seafood, delicious fries (albeit slightly soggier if you takeaway).
Nothing to complain about from me.