Our Current Favourite Sushi Place @ Sushi Del Mar, Cascais
by Elise Xavierpublished on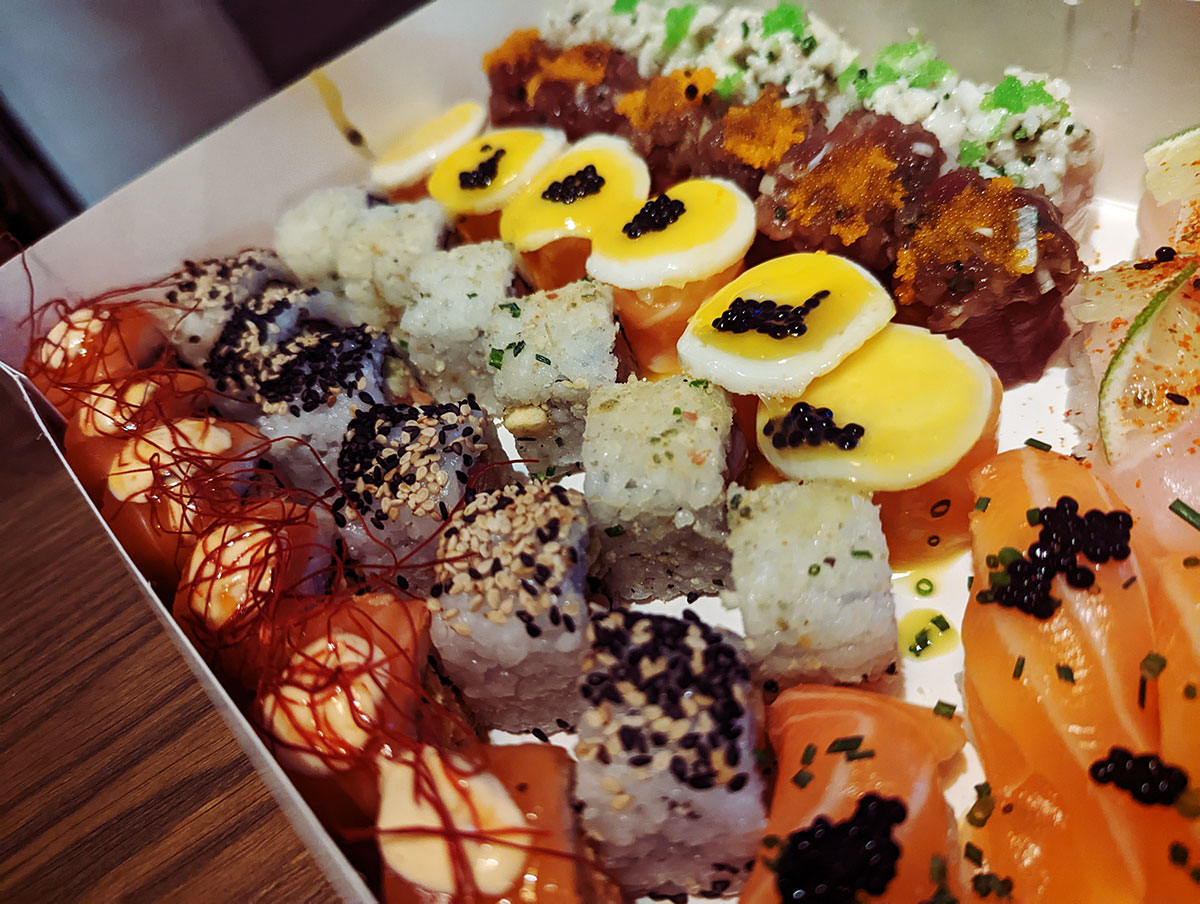 You know, it's a lot easier to write reviews about restaurants I absolutely hate and think are a complete rip off (like Gambrinus in Lisbon) than it is to write about restaurants I adore.
Part of the reason is because - when the food is good, there's not much to say because there's not much to criticize.
Does Sushi Del Mar fit into this category? Absolutely, yes.
There's a little bit of a backstory here. Basically, we've known about this place since very early on when we began living in Cascais.
We tried it out in person and I fell in love. My husband, Thomas, liked it but wasn't as smitten as I was, but he likes sushi that's even simpler than this - incredibly traditional sushi - best.
Then when lockdowns started, we started ordering takeaways through apps more, and we ended up ordering sushi to the house when we typically would only have gone in person.
There were a few times in the middle of lockdown where we ordered from here and the sushi wasn't absolutely the freshest.
Not sure if there were some problems with sourcing fresh fish at that point, or if there were delays getting fish out to the restaurants quickly - either way, it seems those have been resolved and we've had nothing but luck with Sushi Del Mar's freshness in recent days.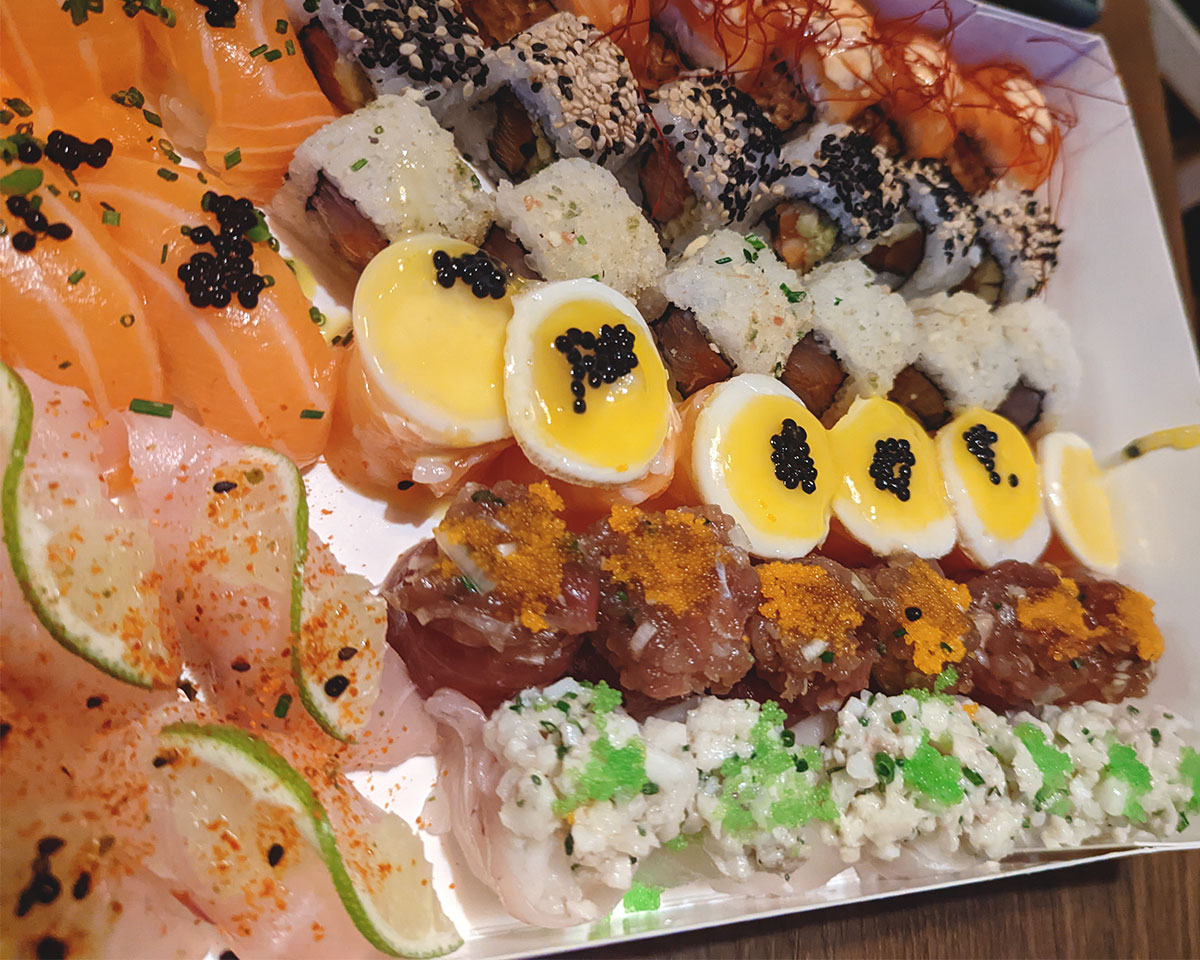 We did stop ordering Sushi Del Mar to the house for some time - experimentation leading us to find a restaurant that we felt was slightly better at the time than Sushi Del Mar for takeaway.
It was Hiroo Sushi, Cascais, and it had much more traditional, "plain" offerings for sushi, which as I mentioned before, Thomas prefers.
Probably the freshest sushi we'd ever had, Hiroo closed it's doors a few months back, and we started ordering to the house from Sushi Del Mar again.
At one point, we ordered Sushi Del Mar and Hiroo within a short period of time and I felt Hiroo had much fresher sushi. That was the point in the middle of lockdown where I feel Sushi Del Mar's freshness was hit or miss.
That definitely didn't continue. Maybe we just got sushi on an off day for the restaurant. The current level of freshness mean Hiroo Cascais - if it was still open - would only have the slight edge in terms of freshness, if there's a difference at all.
Either way, now that Hiroo has closed their Cascais branch, we only order from Sushi Del Mar, unless we're experimenting with new restaurants.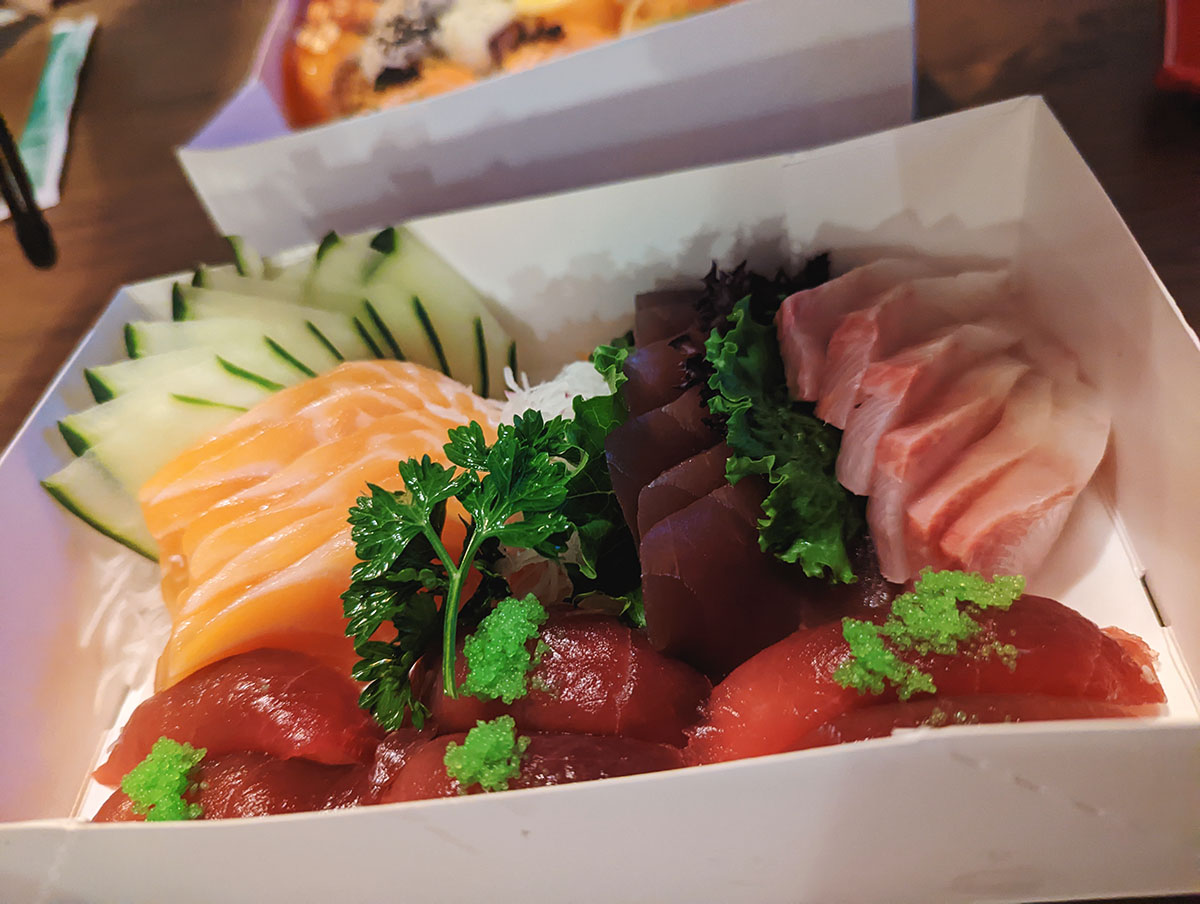 Personally, I actually think I prefer Sushi Del Mar over Hiroo, but that's because I really love interesting maki.
You get a mixture of maki, nijiri, and sashimi.
All are incredibly fresh. Many have fish roe and sesame seeds and other flavours on top.
Their sushi is absolutely above average when it comes to both construction and freshness of the fish.
It's not the cheapest, not the most expensive sushi.
It's worth the price I feel, and when there are Bolt discounts, which we take advantage of quite often, the sushi from here is way worth it.
I absolutely adore the fact that we always get quail egg gunkan - I am obsessed with these and Thomas doesn't like how soft and melt-in-your-mouth the texture is so he always trades his to me fore something else he likes.
Their maki is a bit different each time.
Actually their nigiri is sometimes different as well in terms of what they use as toppings.
They never stray from the "essence" of the style of the sushi, but they are always just ever so slightly different whenever you get the combo.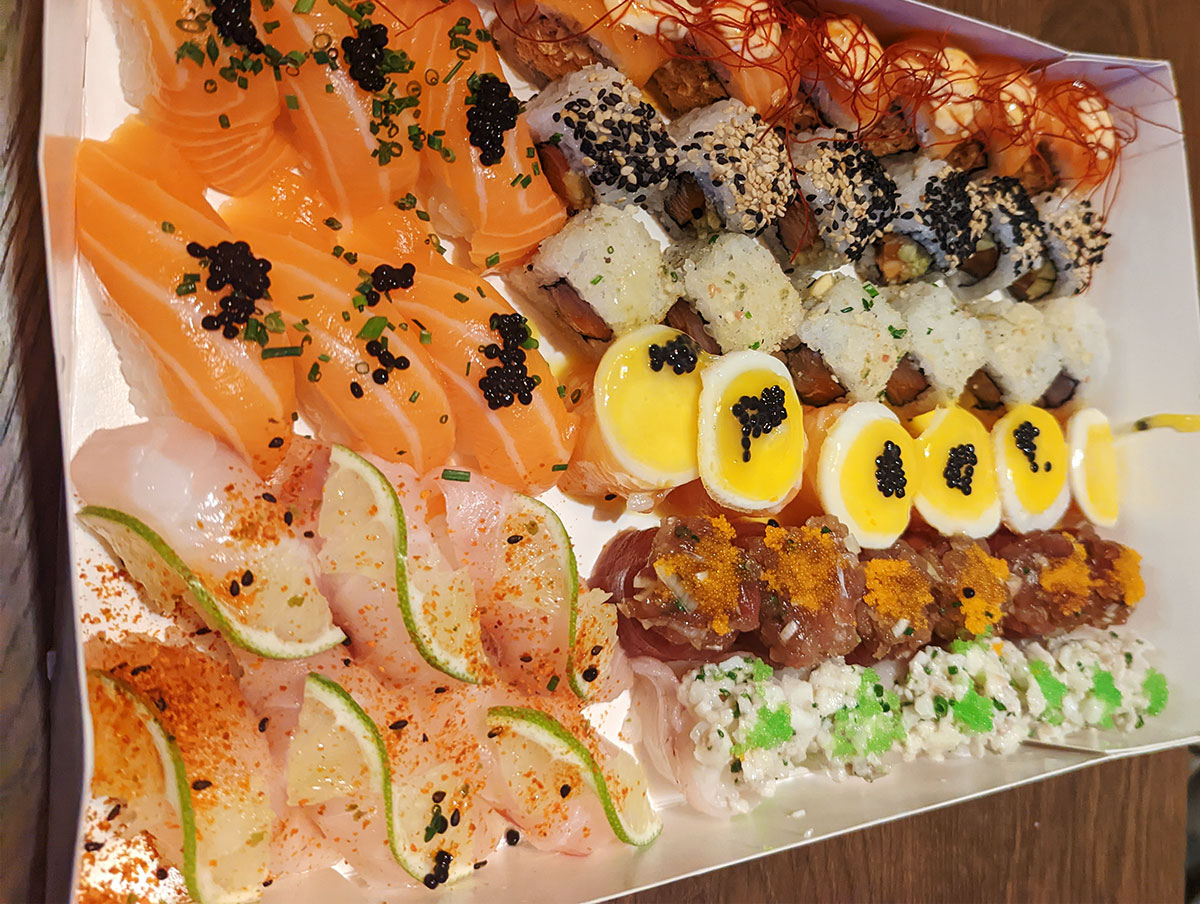 This is exceptionally nice if you like variety, and don't like having exactly the same thing over and over, but really don't want sushi that goes overboard in terms of being experimental or unique.
The flavours always err on the side of caution.
They are not-too-much - if they use may it's not really noticeable, certainly never overwhelming, and doesn't detract from the freshness of the fish.
I'd personally describe it as traditional with a twist, not what I would consider fusion, and absolutely never caked in sugar, which I cannot express how much I hate and the vast majority of sushi restaurants do here.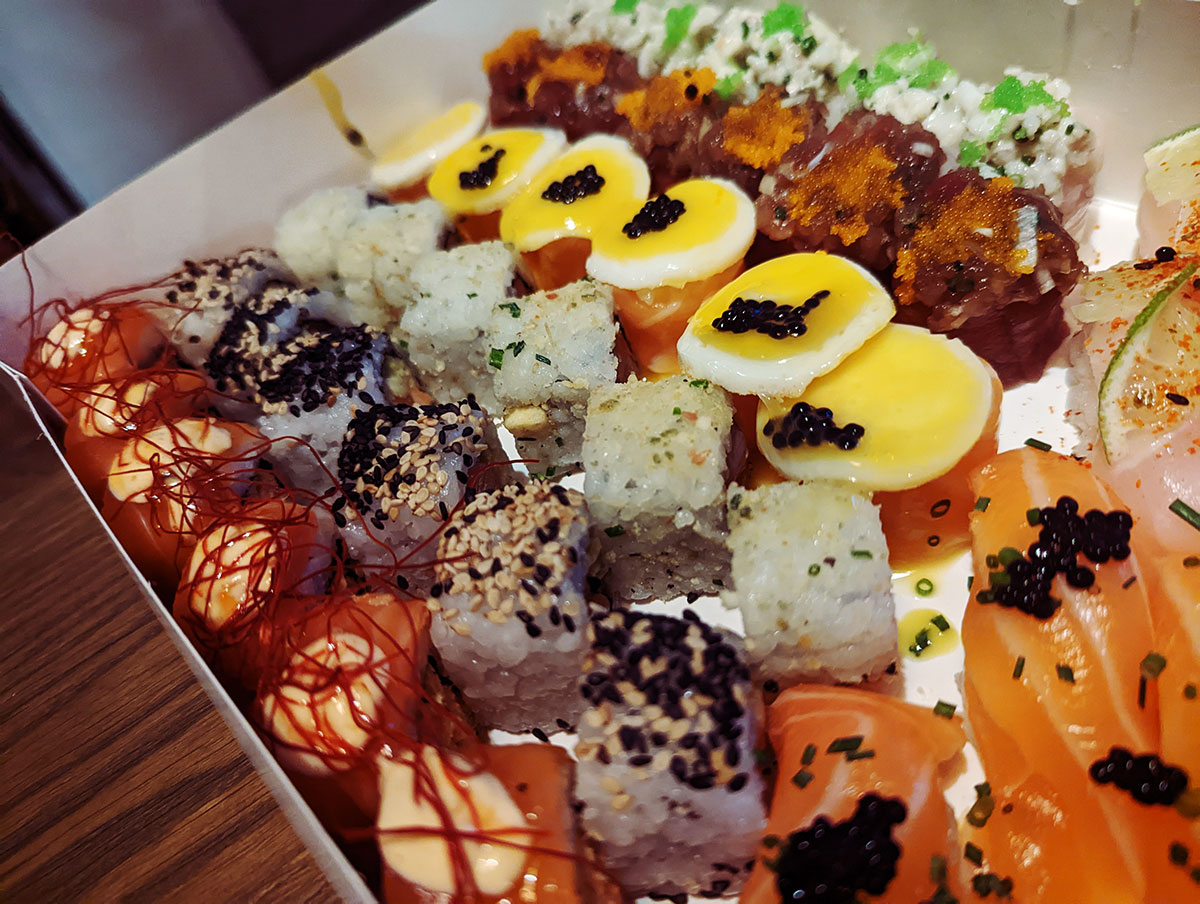 All in all, this place gets an A+ from me, and I'm guessing an A from Thomas.
If Hiroo ever re-opens in Casais or we find another incredibly traditional restaurant that has exceptionally good fish at a reasonable price, my guess is we'd switch and get that sushi 75% of the time, since I do like that type of restaurant and it's 100% what Thomas prefers.
But I would probably nag at Thomas to get Sushi Del Mar at least 25% of the time as well, because I really love those quail egg gunkans, and it's nice to have a touch of unique flavours and creativity in sushi, though most of the time, I will admit, very traditional and the best quality fish you can get is best.